We offer radiant heating installation, repair, replacement and maintenance. Whether your radiant heater fails to keep your home comfortable because it has broken down or you need a comprehensive system installed from scratch, we can help.
Our radiant system technicians handle all system types, brands, and sizes, as they are not only highly trained and experienced but also certified. Call Aquifer Mechanical LTD Team, Heating & Cooling today to learn more about radiant systems and how they can improve your home. Radiant system experts at Aquifer Mechanical offer quality heating services throughout the BC, Canada.
Radiant heating systems are very satisfying. When professionally installed and serviced, your radiant heating system components should work well for years to come.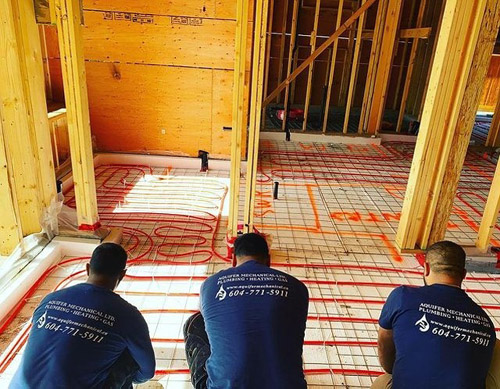 Types of Radiant Heating
Hydronic Radiant Heating: The most common and cost-effective of the radiant heating systems, hydronic heating pumps heated water from your home's boiler through tubing under the floor. This patterned tubing can be zoned, in different areas of the house, to regulate room temperatures independently.
Air-Heated Radiant Heating: This style of heating is not cost-effective, in residential spaces, and is rarely installed since air cannot hold a high amount of heat. In some instances, these systems can be combined with a solar air heating system — but according to the Department of Energy, the inefficiency of heating your home with a furnace outweighs the benefits of air radiant heating.
Electric Radiant Heating: This type of heating unit consists of electric cables, which are built into your floor. This is the most costly of the three options because it requires the most energy to be used. That said, electric radiant floor heating is recommended for homes where it would be impractical to extend a current heating system into a new space — or if used on a large area and thermal mass (such as a thick concrete floor).
Benefits of Radiant Floor Heating
More efficient. Floor heating runs at a temperature of 84 degrees, whereas traditional radiators need to be heated to around 149 degrees Fahrenheit.
Improve indoor air quality. This style of radiant heating does not distribute allergens (such as forced air systems).
Uses less energy. Radiant floor heating uses less energy than other heating methods, helping to lower your utility bill.
Quiet to operate. Radiant heat does not use a blower (such as in a furnace).
Safe to run. There are no sharp or hot surfaces in radiant floor heating like there are in traditional methods (such as a radiator). This is because the heating elements are underground.
Team of Professionals
Award Winning Expertise